5 Bondage Sex Positions for Beginners

Back in the day bondage was a "hush-hush" topic that so many people were hesitant to explore. Nowadays, bondage has taken on a more prominent role, even mainstreaming in many ways. There are many different movies and TV shows these days that feature couples experimenting with bondage play.
Bondage doesn't have to be scary, or hurt, and it's not only for experts. Heck no! There are some simple and pleasing bondage positions and scenarios that any couple could enjoy. Read on for just a few and bring some bondage to your bed!
Shop All of Our BDSM Gear, Click Here!
1. The All Access Position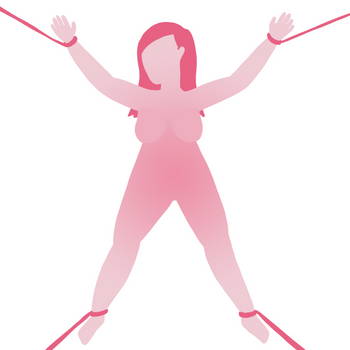 One of the sexy things about being restrained is that you are, well, exposed to your lover in a new way. Many times bondage positions present the person being bound in a very open way to their lover so that they have unfettered access to them.
This first position is pretty basic and can be done with or without special restraints. A tie or pantyhose or even a long sock could do the trick. This position does work best if you have a headboard and footboard on your bed. Have your "submissive" lie on their back in an "X" position (arms and legs out toward the corners of the bed). Then, tie their hands and ankles to the bed so that they are effectively spread. This gives the person doing the tying the opportunity to explore their body in full while they are "helpless" to stop them! Who would want to, really? Not me! If you do not have a headboard or footboard the kitchen table works just fine! Just be a nice Dom and put a pillow under your submissive's head.
Yoga is well, sexy. Plain and simple. Being flexible can really give you a leg up in the bedroom if you know what I mean. Head, shoulders, knees, and try touch your toes for this one. This position requires some ribbon, rope or other bondage restraints.
Have you or your lover bend over to touch like they are going to grab their ankles. Instead, tie the wrists and legs, so that you're unable to lift up easily. Use this bondage position for easier access with the doggy style position, so both people have the best angle for maximum stimulation! Sounds difficult, but can be made quick and easy with a spreader bar like this one:  
3. The Comfy Chair Position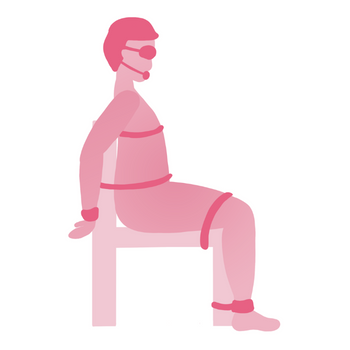 So many couples never explore the simplicity of being bound to a chair. Beginning bondage basics really does need to include chair bondage. To do this simply have your captive sit naked (or nearly naked) on a comfortable chair (think dining room chair, not living room chair.) Then, gently tie their hands back behind them around the back of the chair and tie their feet to each of the chair's legs so that the legs are spread. This will give the tie-er the opportunity to explore his lover while she (or he) sits comfortably in the chair.
The reason I like this position for tying up a male partner is that you can sit on his lap, do a little lap dance, wiggle your breasts in his face, or even have sex with him all while he is tied to the chair! If it is the woman who is being restrained there is a whole host of activities that her captor can do with and to her. Let your imagination run wild!
4. You Have The Right To NOT Remain Silent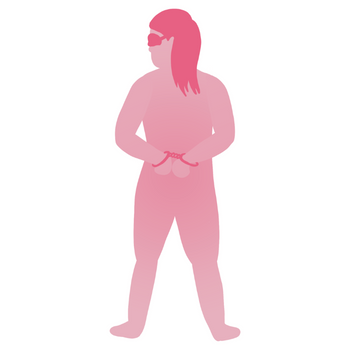 Have you ever watched a police drama on TV and you see how the criminal's hands are cuffed behind his back while he is being read his Miranda rights ("You have the right to remain silent, anything you say can and will be used against you..."). Well, you don't need handcuffs to subdue your sexual prisoner (although, cuffs are good for this).
Simply take a tie or a pair of pantyhose and wrap them criss-cross around your lover's hands while they are behind their back. Then you can have them stand at attention while you play with their body, or push them face-first onto the bed for some backside play, or you can push them against the wall for some flirty and sexy kissing and caressing! You get the picture! When the hands are tied there is little resistance to be had – so have fun with it.
Try These Sex Positions in Your Sex Swing, Click Here!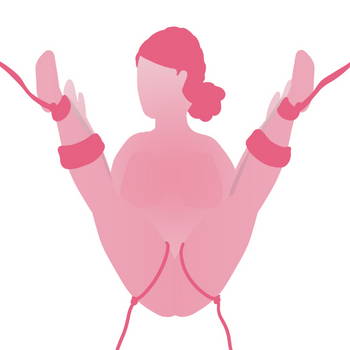 It may not seem as easy as I'm going to describe it, but this is a fun little move that you'll love if you're flexible. It also might make you a little hungry! I like to call this perking position the Up and Open Dumpling. You'll know why. Have your partner lay on their back and have them grab their ankles, and tie a ribbon or cuff around the ankle and wrist. This position gives easy access to give pleasure at the perfect angle, especially for her G-Spot!
What Is Your Favorite Bondage Position? Let Us Know Below!
---
4 comments
---
---