All About The Hidden F-Spot For Penis Owners: Where is it, What is it, and How to Stimulate it?


You hear a lot about the G-spot, the A-spot, the U-spot, and lots of other hot spots for vulva owners. But what about penis havers? Yes, there is the P-spot (otherwise known as the prostate gland—which is pretty amazing!), but what about erogenous zones on the penis? Are there any other hidden, secret spots that we should know about?
Well, yes there is! We're glad you asked!
Introducing (drum roll please!): The Hidden F-spot
For many penis owners, the F-spot (also known as the frenulum), is one of the most highly erogenous areas on the body. While it may not look like much, this little piece of skin is very sensitive to all kinds of erotic touch. Many sensory nerves all culminate in this tiny area, which is why it is so sensitive. Lots of folx with penises say that stimulating this very specific pleasure point, leads to the most powerful, intense, explosive orgasms EVER!
The frenulum can be found on the underside of the shaft, just below the head of the penis (called the glans). It is a thin V-shaped elastic band of tissue that connects the foreskin to the glans. It is very similar to that thin strip of skin that connects the underside of your tongue to the floor of your mouth, and, incidentally, also has the same name. Whether you are circumcised or not, all penis owners have this little magic spot that sends shivers up and down their spine.
To find it on a circumcised penis, look at the underside of the penis for a thin piece of skin that stretches from the top of the shaft and attaches to the ridge on the head of the penis (called the corona). For an uncircumcised penis, gently pull back the foreskin, and you will see it in the same area, with the bottom part attached to the foreskin. You can see it best when the penis is erect, as it would be on the side of the penis facing away from the navel.
If you want to give your partner exquisite pleasure, then discovering how to stimulate this highly responsive area is a must-learn skill to have in your erotic toolbox.
Due to its super sensitivity and very specialized nerve endings, which are very responsive to pressure and vibration, experts say you should be extremely gentle and use soft touch when stimulating the F-spot. It is much like the glans clitoris in that way, and a frenulum-induced orgasm is frequently associated with a clitoral orgasm, as they both contain the same types of specialized nerves.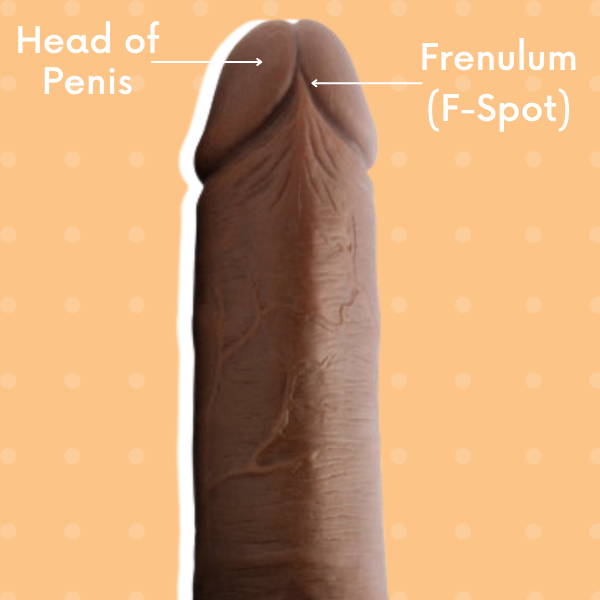 To stimulate this sweet spot, make sure to give it constant attention and love during a hand job, oral sex, or penetration play. Keep in mind, it may take longer to achieve a F-gasm, so be patient and enjoy the ride. And, use plenty of lube to make the whole experience slicker and sexier.
During oral play, you can use the tip of your tongue to stimulate this area using various techniques and types of pressure, from light feathery touches to quick playful tickling licks. Try licking it up and down and also back and forth. You can also kiss and suck it gently, or place your mouth over it and blow them a raspberry.


You can likewise use the whole flat of your tongue to lick it up and down like a delicious ice cream cone. Use a flavored lube during this technique for an extra tasty treat. Try various flavors like strawberry, pina colada, or cotton candy.
Alternately, you can suck the head of the penis, and each time you go down on it, graze the F-spot with your tongue or bottom lip. You can also use the pad of your thumb in the same manner, as you suck the head of the penis and rub your thumb up and down over it in tandem with your mouth.
During a hand job, you would use your thumb in the same way, or the side of your thumb as you slide up and down the shaft over the F-spot each time you reach the head. You can also use double thumbs and tap and glide over it, called texting, as if you are sending them a naughty text message.
During intercourse, find a position that puts pressure and friction on this area of the penis and allows them to thrust, such as doggie style and elevated missionary. Moving the head of the penis in and out of the vaginal opening (or anus) ever-so-slightly will add more friction to the F-spot as well. If they are having sex with a vagina owner, they can try rubbing the bottom side of the head of their penis against their partner's G-spot during doggie style too.
Some people get their frenulum pierced, which is called a frenulum piercing (surprise!), to gain even greater sensitivity and pleasure during masturbation and intercourse.
And you can always use adult toys to stimulate this area as well.
The Best Toys to Help With Stimulation
A small bullet vibrator with multiple speeds works wonders on the F-spot, whether you are going solo or during partner play. Start at the lowest setting, and leisurely massage the vibe over the frenulum, then gradually increase the intensity. Make sure to keep the toy in constant contact with the F-spot as you pleasure it.
Here are some other penis head and F-spot pleasers to produce a frenulum-base orgasm.
---
This head-teasing masturbator is designed to stimulate the head of the penis (and F-spot) for a breathtaking climax. It features rows of pleasure nubs that line the inside to provide even more stimulation and 10 modes of powerful vibration for mind-blowing pleasure.
---
This cock head stimulator will enhance your erections and help you achieve explosive orgasms! Its 10 functions vibe on your penis head to give you intense pleasure where you want it most.
---
This is a hand-held, travel-friendly masturbator vibe has flexible wings that wrap you in ecstasy, with powerful vibrations that you can use to stroke your F-spot to bliss. It has 5 rows of sensation ribbing and 10 escalating and pulsating rhythms to send you over the moon.
---
So, now you know what it is, where to find it, and how to stimulate it. What are you waiting for? Go bang your gong (or F-spot) tonight!
---