The A-What? The A-Spot Explained: What Is It & How To Stimulate It For Super Juicy Orgasms


You have probably heard of the G-spot, but did you know there is another area within the vagina that can, when stimulated the right way, result in powerful "orgasmic contractions," "multiple orgasms," and sudden heavy lubrication of "the entire vaginal canal" [1]?
It's called the A-spot, or more correctly, the AFE Zone (short for anterior fornix erogenous zone). This amazing area deep inside the vagina can give vulva owners immense pleasure and is said to aid in vaginal lubrication, especially for women who experience vaginal dryness and pain during penetrative sex.
However, every person born with a vagina can benefit from A-spot stimulation and pleasure. Read on to find out how.
So, what exactly is the A-spot? The A-spot is at the very back of the vagina (also called the "deep" spot for that reason), located just before the cervix, and underneath the bladder. It is a highly sensitive area that can produce immediate wetness and a pleasurable orgasmic sensation when stimulated.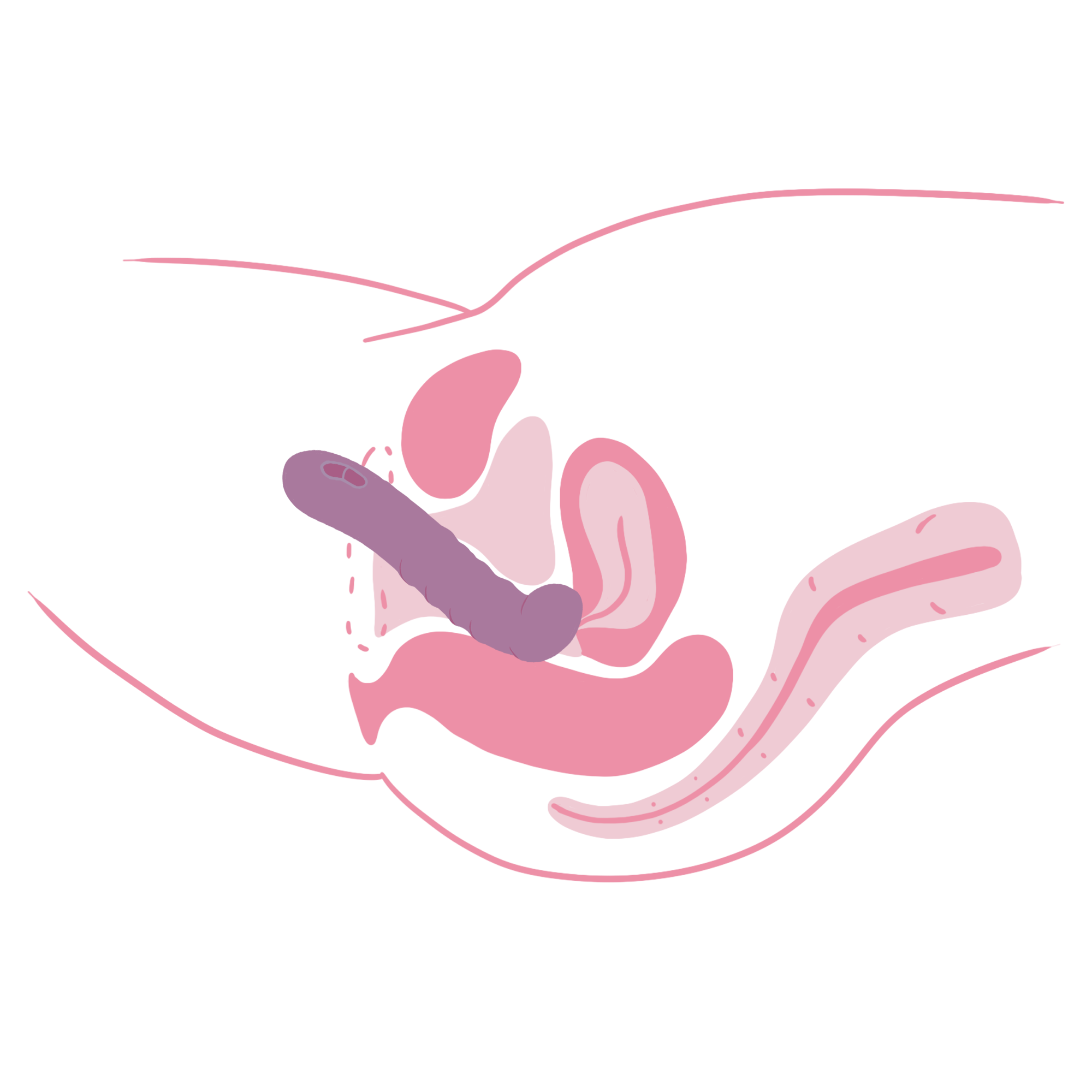 It was discovered in 1993 by Dr. Chua Chee Ann, MD., who is also the "pioneer" of the A-spot Stimulation Technique™. Dr. Chee Ann was motivated to help his patients who suffered from "poor lubrication response" and "dry painful" sexual intercourse after finding "conventional methods of treatment" didn't work. Thus, he searched for and found a "zone" in the back of the vagina that responded to manual stimulation, resulting in "erotic sensitivity" [2] and almost instant lubrication of the entire vagina. Oh, and 30-40 orgasms a minute… if that's even possible!
In the Journal of Sexual and Marital Therapy (1997), Dr. Chee Ann documented his findings after performing A-spot stimulation on many clients. He noted that stimulating this area triggers heavy lubrication of the vagina in less than 30 seconds and that the AFE Zone has "special erogenous properties as well." [3]
According to Dr. Chee Ann, 15% of vagina owners had an instant orgasm and massive vaginal lubrication when trying his technique in the clinic and at home by themselves or with a partner. A large majority, 63.1% reported "strong orgasms" as well as a very pleasurable erotic sensation when stimulated, accompanied by "copious levels of vaginal lubrication". While not all vulva owners experienced orgasm, 77.5% reported high levels of lubrication, and 74.2% displayed a pleasurable response. [4]
Sounds pretty amazing… and complicated! But how do you locate it?
We're glad you asked!
The easiest way to find the A-spot is through manual exploration with the fingers (or fingering), or via a long G-spot wand. To reach it, one would feel around the belly side of the vagina, past the G-spot, to the back of the vagina about 3-6 inches, depending on the individual's vaginal depth. The average vagina is between 3-6 inches in length, so yours will be somewhere in that range.
There, just before the cervix is a little groove, also known as the "Anterior" Fornix (anterior meaning "front", and fornix meaning "arch" or "recess"), as you can see in the image above. If you feel the cervix, then you have gone too far. It is this little grooved valley where all the sexy fun happens when you stimulate it the right way.

On the back side or anal side of the vagina is a similar groove called the Posterior Fornix ("posterior" meaning backside). However, it is the "anterior" spot that is known as the A-spot.
While you can use a G-spot wand or vibrator, or a penis to stimulate the A-spot, we recommend starting with your fingers first, so you can feel the anatomy of the little ridge and valley that makes up the A-spot and be able to locate it.
Now let's find out how to stimulate it.


How to Stimulate the A-spot

Okay, on to the fun stuff! As we mentioned above, once you have located it with your fingers, you can stimulate it using your fingertips, a penis or a G-spot wand or vibrator.
Here are the various ways to stimulate it for amazing pleasure and wet, juicy orgasms.

Stimulation Techniques with Fingers
According to Dr. Chee Ann, the best way to massage the A-spot is with the fingers which if done correctly will result in intense orgasms within 5-10 seconds (or 4-5 strokes) of stimulation. And, because the A-spot doesn't get over-sensitized after the first orgasm, like the external clitoris, multiple orgasms are possible, one right after the other, with each climax more intense than the last.
In his documented study (1997), Dr. Chee Ann describes how he stimulated his clients, which includes "gentle repeated stroking of the inner half of the anterior vaginal wall (AFE Zone)" with one finger. Once the vagina becomes self-lubricated from stroking, one can then use gentle in-and-out strokes on the vaginal sponge (G-spot area) and the A-spot along the entire length of the frontal vaginal wall. [6]
While that all sounds rather clinical and not too sexy, here is how you can stimulate your own A-spot solo style or with the help of your partner.


First, make sure you trim your nails or wear gloves!


Get into position. Dr. Chee Ann recommends a squatting or sitting position with knees close to your chest, for self-pleasuring the A-spot with your fingers. This is so you can reach the back of the vaginal canal where the A-spot lies. If you can't reach it, no worries, you can use a G-spot wand or vibrator, which is described in the next section, or you can ask your partner to help you as well if that is an option. You may find another position more comfortable for you as well, such as lying on your back, on your side, or kneeling "doggy style".


We recommended using a good water-based vulva-friendly lubricant for any vaginal penetration play. Apply to your fingers and to the vulva and vaginal opening.



Dr. Chee Ann says to stimulate this area (the ridge and valley) using "very light [long, in-and-out] finger strokes" [7]

from A-spot to the vaginal opening along the inner front wall, rather than using "deep pressure" strokes as you would during G-spot massage.


Other types of strokes you could try are using a swishing motion, side-to-side like a windshield wiper.



Sex and intimacy expert, Gigi Engle, quoted in Cosmo [8]

, recommends pushing "firmly… to ignite feelings of pleasure" [9]

because the vagina has pressure-sensitive nerve endings rather than touch-sensitive ones.



You can also try a "come hither" finger stroke as well.

While there are many ways in which you could possibly stimulate the A-spot, try experimenting with various positions, techniques, types of pressure and strokes until you find the one that turns you on. Remember every vagina is different, and every individual experiences pleasure in various ways.

Stimulation with Sex Toys

1. If you are going solo, it may be easier for you to reach you're A-spot with a sex toy, particularly a long one with a curved tip. G-spot wands and dildos work perfectly for this purpose as they are designed with an exaggerated curve which makes them useful for massaging the G-spot and A-spot. As we noted from the Anterior Fornix diagram, the A-spot is a slight indentation, so a toy with a curved tip is especially well designed to reach into and stimulate this area. The Dual Ended Glass G-Spot Massager is a perfect example of this type of G-spot wand because it is both firm and curved. Lying on your back or squatting is possibly the best position to use this toy with. If playing with a partner, missionary, or doggy style may work best.

Stimulation with a Penis or Strap-on

2. While firmer pressure is recommended over vibration, some vagina owners enjoy internal vibration as well. If that is the case for you, try a G-spot vibrator, like the G-Spot Massager, that is long and slim, and has a perfectly angled, pinpoint tip to access that hard-to-reach zone.
3. The A-spot can also be stimulated anally using a G-spot or P-spot toy like our Wireless Thumping Prostate Massager. This is because the wall between the anus and the vagina is very thin, so it is possible to massage the A-spot (and the G-spot) indirectly from the anus through the vaginal wall. Keep in mind, that you may not be able to access the groove directly, so a larger bulbous-headed dildo may work better to apply pressure to that area.
4. A strap-on can also be used both vaginally, or anally to massage the A-spot. Again, look for one with a pronounced curve, such as the 9 Inch Long Hollow Strap-On.

The A-spot can also be pleasured by a penis or strap-on. This can be accomplished via very deep penetration during penis-to-vagina sexual intercourse.


As with any sexual intercourse, we recommend warming up with lots of loving foreplay, using a good water-based lubricant.


Also, remember to use fingers first to feel for and find the A-spot area, so it is easier to find with a penis.


Make sure to communicate before and during your exploration with a partner, giving them feedback on what feels good.


When using a penis to pleasure the A-spot try small back and forth motions (side to side) to target the A-spot directly with the tip of the penis. You can even try a circular stimulation while applying deep pressure to this area.


Avoid deep in-and-out thrusting penetration as this may cause the penis to go too far and hit the cervix, which can be painful for some vagina owners.


Explore with slow, gentle stimulation of the A-spot zone so you are targeting the right area.



Having patience during your A-spot adventure is super important.

Best Positions for Stimulating the A-Spot
Many sex experts agree that there are 3 sex positions that work best to access the A-spot for the deepest penetration during P-to-V sex.
These include: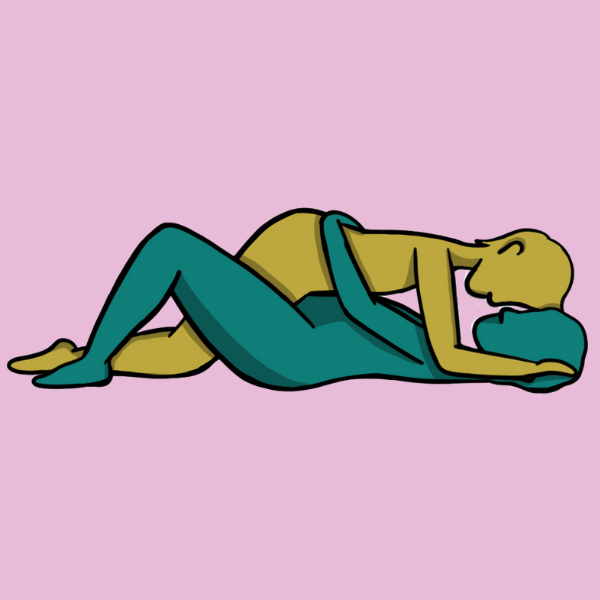 Missionary:

Missionary position with the receiver's legs raised and spread eagle provides very deep penetration while angling the penis or strap-on toward the front of the receiver's body. A well-paced pillow under the receiver's buttocks can help the penetrator get a better angle as well, and the receiver can also rest their ankles on their partner's shoulders.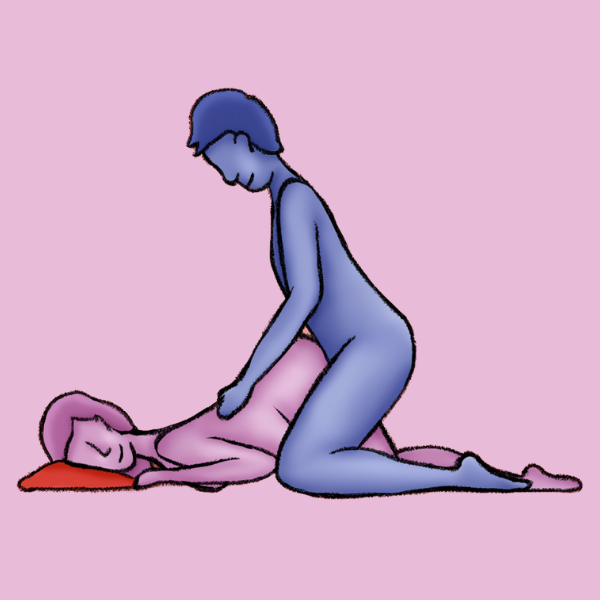 Doggy Style:
Doggy style works well because it allows for deeper penetration and lots of leverage to reach the back of the vagina. Remember, the A-spot is on the belly side of the vagina, so using a downward stroke of the penis will massage this area better. This position would also be perfect for massaging the A-spot indirectly through the anal wall during anal sex.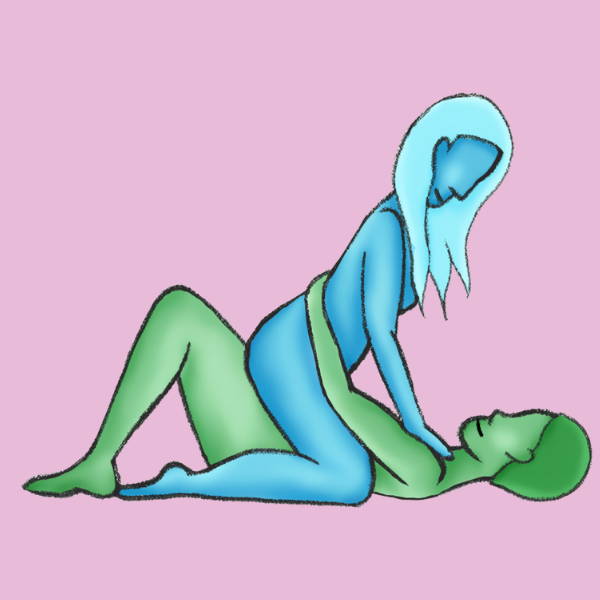 "Rider" Style:

Also known as the "Cowgirl" position, the person being penetrated sits on top of their partner, where they can angle their body to direct the thrusts towards the A-spot. Arching their body back will put more pressure on the front of the vagina in this position as well.
How Does the A-Spot Differ From the G-Spot?

The A-spot and G-spot are very close together, and it is easy to become confused as to which spot is where.
Here is the difference:
The G-spot is 1-2 inches inside the vagina on the front wall. When stimulated, this area (which is also known as the urethral sponge) fills with fluid and becomes puffy. The skin on the G-spot zone is prune-like and wrinkled, which feels distinctly different from the surrounding vaginal tissue. When pleasured, one may feel an itchy sensation, or as if they need to urinate. After that, with continued G-spot massage, this area will become pleasurable and may result in a squirting orgasm, or multiple orgasms.
The A-spot is about another 1-2 inches past the G-spot, just before the cervix. The vaginal tissue here feels smooth and sleek, with a small ridge followed by a groove. People who have experienced A-spot pleasure say it feels pleasurable right away and quickly creates vaginal wetness.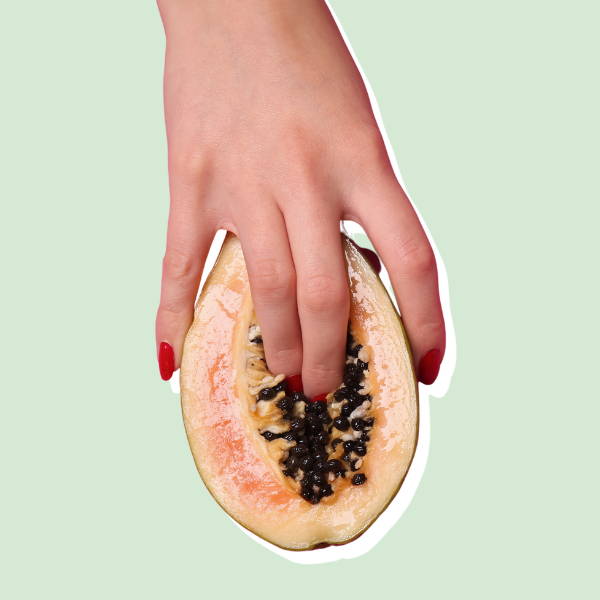 The G-spot enjoys deep pressure when stimulated and "come hither" types of strokes, whereas the A-spot likes light, gentle small strokes and side-to-side strokes. While stimulating the A-spot can result in large amounts of vaginal lubrication, female ejaculation doesn't usually happen. Stimulation of this area may also activate sexual arousal in the cervix indirectly [10], as well as the internal clitoris. The area of the A-spot that feels pleasure may differ between vagina owners, so try stimulation of the ridge, valley, and just before the ridge to find out which feels best for you.
Any Other Tips for Getting the Perfect A-spot Orgasm?

Here are a few more tips on how to explore your A-spot's orgasmic potential.
Get warmed up with lots of foreplay first. Do all the usual things that turn you on to build desire and pleasure.


You may enjoy external clitoral stimulation prior to or during A-spot exploration to aid in building towards orgasm.



Receiving a vulva or Yoni massage is a great way to stimulate the internal clitoris surrounding the vagina before penetration.
Go slow, take your time, and be gentle. If you feel pain at the back of the vagina, this is likely your cervix, so you are going too far.


If you are exploring with a partner, make sure to keep the lines of communication open at all times for the best experience.


You may not orgasm right away with A-spot stimulation, and that's okay. It can take time to rewire the brain for new types of pleasure and exploration, so keep trying and be patient.


Try doing some erotic breathwork before and during A-spot exploration, as this will relax the body and allow for deeper penetration and pleasure.


Once you have found it, try rocking your hips while the penis or toy stays motionless, to get precise stimulation of that area.



Vocalizing during sexual penetration can help move orgasmic energy around for more full-body orgasms and pleasure.

Our Top Products for A-Spot Stimulation
---
---
Finally, remember that every vagina owner is different and will have distinct experiences. So, do what feels good for you and your body. Your body may also respond differently to sexual pleasure and penetration depending on the time of the month, and whether you are menstruating or post-menopausal. And not everyone will enjoy A-spot stimulation, and that is okay too. There are many erogenous zones that vulva owners can explore and numerous ways to enjoy orgasms, so another way will be just right for you.

[1] Dr. Chua Chee Ann, "The AFE Zone," A-spot Pioneer. Accessed 06-05-22. [https://aspot-pioneer.com/deve/afe-zone/].
[2] "2006 Exclusive Interview with Dr. Chua Chee Ann," A-spot Pioneer. Accessed 06-05-22. [https://aspot-pioneer.com/deve/exclusive-interview-script/].
[3] Dr. Chua Chee Ann (1997) "A proposal for a radical new sex therapy technique for the management of vasocongestive and orgasmic dysfunction in women: The AFE Zone Stimulation Technique", Journal of Sexual and Marital Therapy, 12:4, 357-370, DOI: 10.1080/02674659708408179 Accessed 06-05-22. [https://www.tandfonline.com/doi/abs/10.1080/02674659708408179]
[4] Chee Ann (1997) "The AFE Zone Stimulation Technique".
[5] "Vagina; Fornix," Wikipedia. Accessed 06-05-22. [https://en.wikipedia.org/wiki/Vaginal_fornix].
[6] Chee Ann (1997) "The AFE Zone Stimulation Technique".
[7] Chee Ann, "The AFE Zone."
[8] Rachel Varina, quoting Gigi Engle, "A-spot". Cosmo Magazine. Accessed 06-05-22. [https://www.cosmopolitan.com/sexopedia/a36764301/a-spot/].
[9] Varina, "A-spot".
[10] Bianca Mendez, quoting Leah Millheiser, M.D., "This Hard to Reach Spot Could Give You a Massive Orgasm", Womens Health Magazine. Accessed 06-05-22.
[https://www.womenshealthmag.com/sex-and-love/a19941220/a-spot-orgasm/].
---
1 comment
---
---